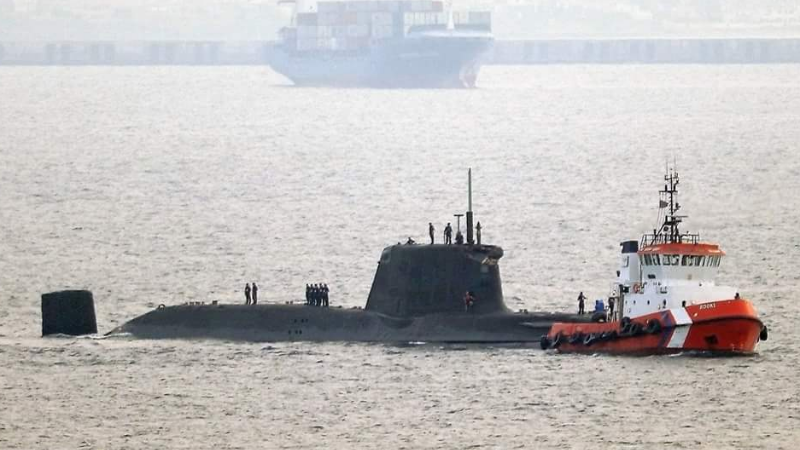 The HMS Ambush is towed into port after her collision with Vemaoil XXIII (Save the Royal Navy, 2016)
On Friday, UK media reported that all seven of the Royal Navy's nuclear-powered attack submarines are "non-operational," with six undergoing repairs and one out on sea trials. If accurate, the reports suggest that the Royal Navy has no submarine assets for tracking Russian naval activity near Britain (though the service's ballistic missile subs remain operational). The Ministry of Defence declined to comment. 
Different sets of problems affect the two generations of Britain's attack sub fleet. All four of the aging Trafalgar-class submarines are down for repairs, and one Royal Navy source told The Sun that they are "on their last legs." Of the new Astute class, one is under repair, one is on sea trials after completing repairs and one – the Ambush – is still being patched up after a collision near Gibraltar last year. 
In that incident, the Ambush collided with the chemical tanker Vemaoil XXIII during a training exercise, leaving a gash in the sub's conning tower. The collision was the third accident involving a UK submarine in six years: the HMS Talent struck ice last year, and the HMS Astute – the first in the Ambush's class – went aground off of Isle of Skye in 2010.  
Beyond Royal Navy's fleet has been beset by a series of procurement, recruitment and operational problems over the last several years: its new Type 45 destroyers are liable to go dark ship in hot climates due to an unsuitable intercooler design; the surface fleet is set to lose its anti-ship missiles altogether in 2018, with no replacement in sight; and the service is 1,000 sailors short of its authorized staffing levels, leading to higher workloads. A recent survey found that one in three servicemembers said that they would quit if they could.
http://www.emaritimeexchange.com/wp-content/uploads/emaritime-exchange-logo-2017-300x119.png
0
0
George Ward
http://www.emaritimeexchange.com/wp-content/uploads/emaritime-exchange-logo-2017-300x119.png
George Ward
2017-02-10 21:45:00
2017-02-10 21:45:00
All of Royal Navy's Attack Subs Are Off Patrol Duty