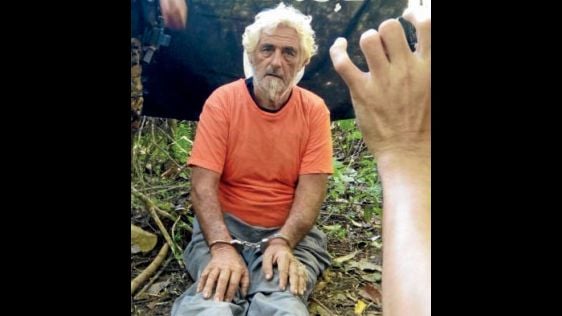 The Abu Sayyaf group has threatened to behead a German hostage unless a $100,000 ransom is paid by February 26.
The hostage, long-time sailing cruiser Jurgen Kantner, was captured in November near the pirate stronghold of Tawi Tawi. In a video released last week, Kantner – surrounded by Abu Sayyaf fighters – addressed the German government, warning that the terrorists will kill him if the ransom is not paid soon.
The Philippine military is still working to confirm the authenticity of the video, but a spokesman discouraged the idea of paying for Kantner's release. "We don't support ransom. They will just build their capability some more if they have money," said Colonel Cirilito Sobejana, commander of Joint Task Force Sulu in comments to the Inquirer. 
Abu Sayyaf has often made good on its threats. Last year, the group beheaded three prisoners – John Ridsdel, Robert Hall, and Philippine national Patrick Almodovar – after ransom demands went unmet. 
The group is believed to be holding more than two dozen hostages at present, most of them seafarers who were captured from tugs and trawlers. It has released eleven captives since last June, including Norwegian national Kjartan Sekkingstad. Philippine Defense Secretary Delfin Lorenzana recently told CNN that Abu Sayyaf had released so many hostages thanks to the pressure of an intensified government offensive. (Analysts suggest that kidnapping is a lucrative practice for Abu Sayyaf, but the Philippine government does not generally comment on whether ransoms have been paid.) 
Fight against Abu Sayyaf continues
The Armed Forces of the Philippines (AFP) is engaged in a full-scale campaign against Abu Sayyaf in Sulu, Basilan and Mindanao, and it has recently stepped up its efforts under orders from Philippine president Rodrigo Duterte. Duterte has also encouraged Indonesian and Malaysian forces to join in the anti-piracy effort, granting them permission to pursue suspected pirates into Philippine waters; In addition, he recently said that he had asked China to contribute to patrols off Sulu and Basilan. "They can't patrol international waters without necessarily intruding into the territorial waters of countries," he said. "We would be glad if they have their presence there."
Japan may also join in the campaign, according to Raymund Quilop, the Philippines' assistant defence minister for international affairs. Quilop said Tuesday that Japanese vice minister Ro Manabe had offered assistance "in addressing piracy and terrorism" at a meeting in Tokyo. However, a Japanese defense official told ChannelNews Asia that the assistance would be limited to capacity building.
http://www.emaritimeexchange.com/wp-content/uploads/emaritime-exchange-logo-2017-300x119.png
0
0
George Ward
http://www.emaritimeexchange.com/wp-content/uploads/emaritime-exchange-logo-2017-300x119.png
George Ward
2017-02-14 23:15:00
2017-02-14 23:15:00
Abu Sayyaf Threatens to Behead German Yachtsman